A video thumbnail is a static image that people will see before they play your video. Customizing this image can help your videos be more interactive and engaging.
The first step is for you to create a custom thumbnail image that you're going to upload to Spark Hire. When creating the image, make sure you follow these guidelines on the size of the image.
Image size for your custom thumbnail
For the best results, we strongly recommend that your thumbnail image is using a 16:9 aspect ratio (width:height).
Examples if width x height dimensions in this ratio include:
1280x720
960x540
800x450
640x360
Uploading your custom thumbnail
After you've recorded or uploaded a video, you'll see a tab labeled Custom Thumbnail.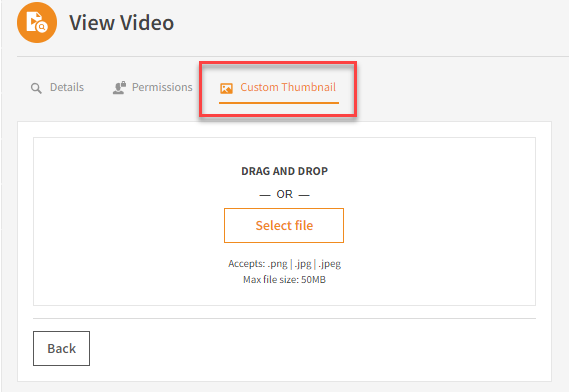 Click the tab and you'll see the current thumbnail for this video. You can change it and upload your own by clicking Change Thumbnail. This will toggle you to the uploader. Now, you can select a file or drag and drop one into the uploader.
Your thumbnail image will start uploading. Do not close or refresh the page until uploading is complete and you see the image is processing.
When the image is finished processing, it'll show up as your new thumbnail!